Falconry scene with huntsmen in the blue uniform of the French royal hunt. This is inspired by the Gobelins tapestries produced in the 1730s from Jean-Baptiste Oudry's cartoons showing various scenes of Louis XV hunting in the royal forests around Paris. The series was copied around 1780 onto porcelain plaques at Sèvres for Louis XVI. These are now in Louis XVI's private dining room at Versailles.
Tamara Préaud records Jean-Charles Develly at Sèvres as a painter between 1813 and 1847.  This painting is presumably a preparatory design for an elaborate vase. Another similar scene is preserved in the archives at Sèvres. We have searched through Marcelle Brunet's thesis on Develly but have not found any piece of porcelain copying this exact scene but a related vase is held in the Bowes Museum.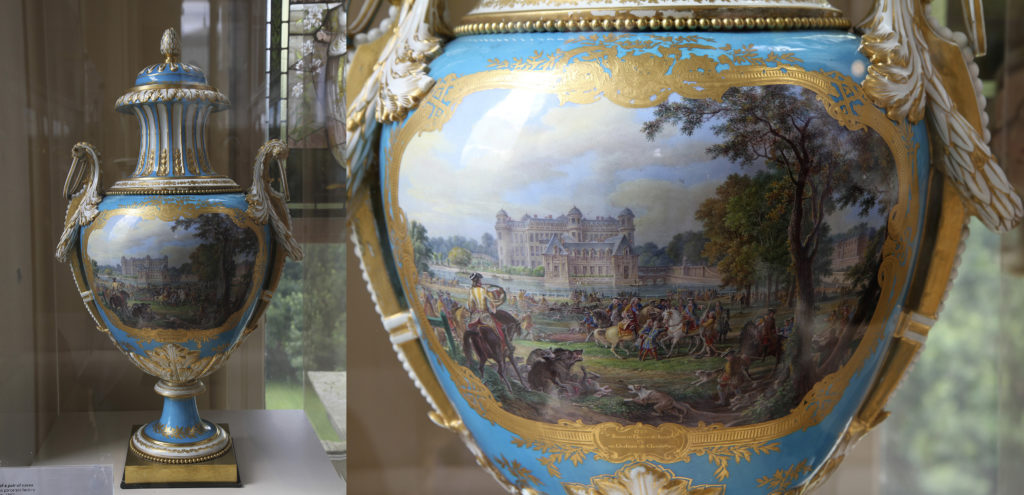 Bowes Museum, Sèvres, circa 1753 (x. 1447), Barnard Castle
The surround with trophies is particularly rich and colourful, but could have been executed on porcelain either coloured or in various tones of gilding with contrasting burnishing.
Condition:
Painted on two pieces of paper mounted on board with some tears to the edges
Price: £2,600