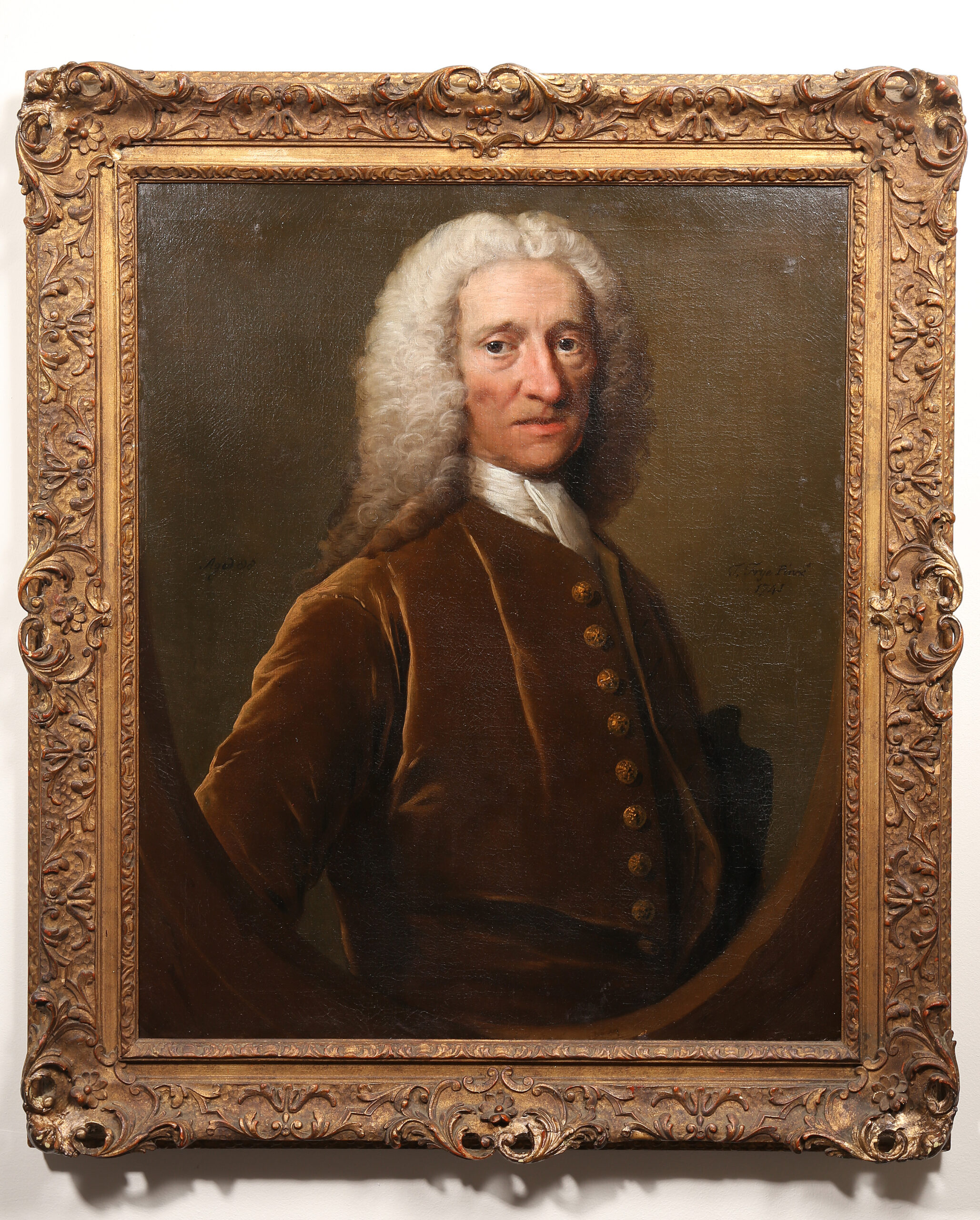 PORTRAIT OF AN ELDERLY GENTLEMAN, BY THOMAS FRYE
1741
75 cm x 62 cm
Inscribed 'Aged 88' and signed T. Frye Pinxt 1741
Thomas Frye (1710-1762) was an Anglo-Irish artist who was described in his epitaph as "The inventor and first manufacturer of porcelain in England".
Born County Offaly, Ireland, Frye came to London to pursue a career as an artist. An early success was the commission for a portrait of Frederick, Prince of Wales when he was appointed Perpetual Master of the Company of Sadlers in 1736. He presumably obtained this commission through his future partner in the porcelain business, Edward Heylyn who himself became a Freeman of the Worshipful Company of Saddlers in 1731. This painting was destroyed in the Blitz in 1940.  He was a talented and versatile artist becoming a life-long friend of Sir Joshua Reynolds, excelling at oils, pastels, miniatures and a remarkable series of mezzotints of fanciful heads in staged poses.
Thomas Frye and Edward Heylyn took out a patent to make porcelain on 6th December 1744. Frye took out a subsequent patent, in his name alone, in November 1749/50. These established the Bow porcelain factory to which he devoted much of his energy until forced to retire in 1759 due to ill health, which was likely caused by prolonged exposure to the process of the factory. He resumed his artistic career until his death in London at Hatton Garden on 3 April 1762.
The age of the sitter is inscribed on the left;  eighty-eight was a remarkable age for the period, yet he stands upright and alert. Dressed plainly but richly, in a velvet jacket, he is typical of the circle of figures that Frye mixed with in his London years. Michael Wynne lists two other portraits painted in 1741, The Reverend James Townley and Mrs James Townley.
This painting was owned by Homan Potterton (1946 – 2020), the youngest director of the National Gallery of Ireland from 1979 -1988 and like Thomas Frye came from Offaly.
An EPITAPH
To the Memory of THOMAS FRYE, a Painter.
Ireland gave him his Birth, and Nature his Profession.
To London he very early resorted,
Where his great Talents could not long lie undiscovered.
About the Age of twenty-eight he had the Honour of painting his R.H Frederick Prince of Wales.
His Genius was not confined to that Art,
For he was the Inventor and first Manufacturer of Porcelain in England.
To bring which to Perfection
He spent fifteen years among Furnaces,
Till his Constitution was near destroyed:
He therefore quitted these Works, and retired into Wales
(Expecting with Resignation the Fate common to All)
Change of Country soon restored him to Health;
In twelve Months he returned to London
And resumed his original Profession.
At once he broke out upon the World
As the Sun from behind a Cloud,
And sunk as suddenly as sinks in the Deep.
To his beloved Art he fell a Martyr;
For his intense Application
Brought on his dissolution with the Haste of the most precipitate Consumption.
He waved his hand, as if painting,
Till the final Gasp put an End to his Labours.
This happened on the second Day of April 1762;
When he was arrived at his fifty-second Year.
No one was more happy in delineating the human Countenance:
He had the Correctness of Van Dyck, and the Colouring of Rubens.
In miniature-painting he equalled, if not excelled, the famous Cooper;
And left sone fine Specimens of his abilities for that Sort of engraving called Mezzo-Tinto.
To say he was an honest Man, is but barely to do him Justice,
For he inherited every social Virtue.
And you who are no Strangers to the heart-breaking Pang
When the ghastly Tyrant severs the strongest Knot of Amity,
Can only know what his friends felt on the Loss of him.
'Epitaph to Mr Frye', Supplement to the Gentleman's Magazine, vol. 34, 1764, p.638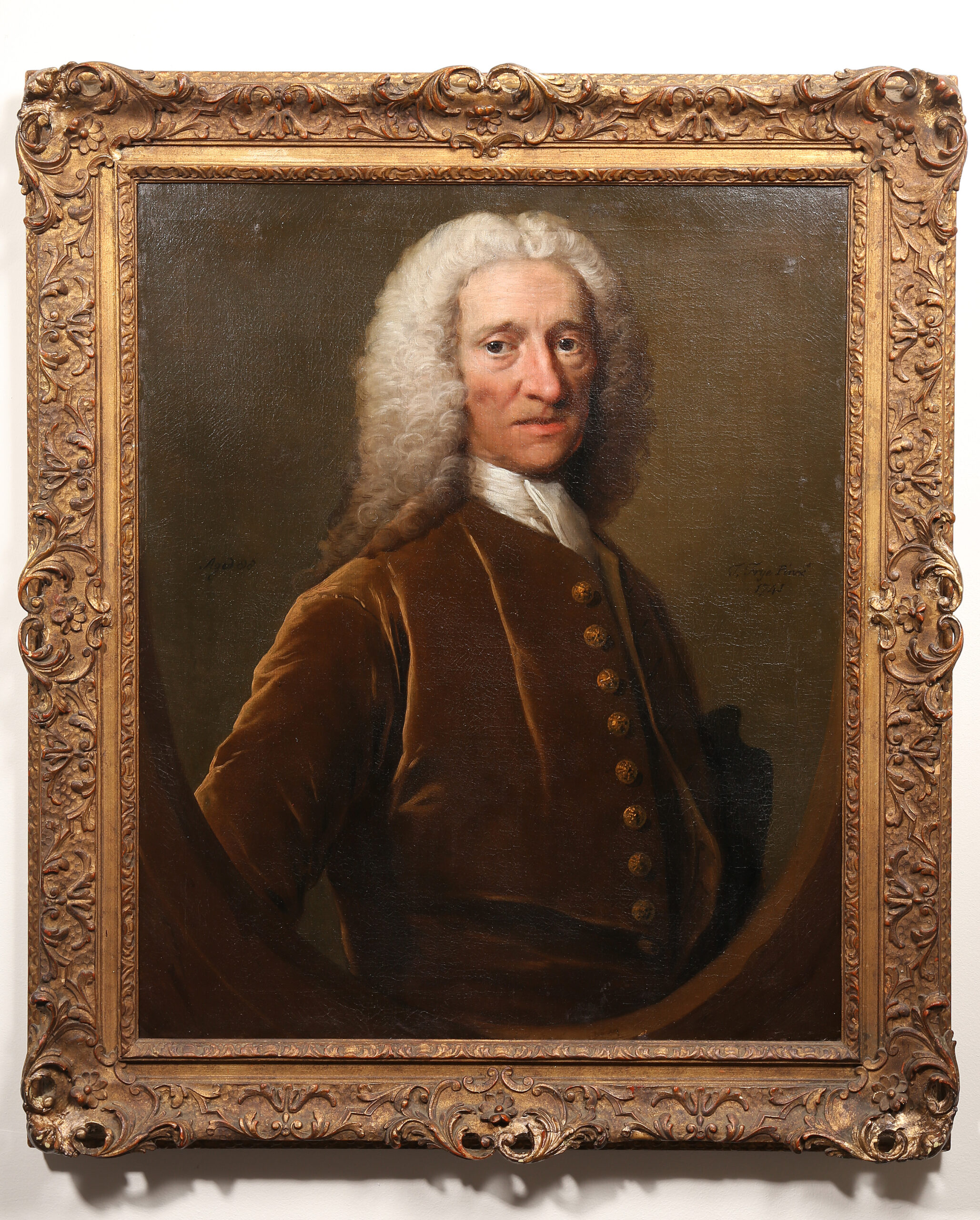 The frame is 19th century
Provenance:
Gimbel Brothers, New York
Sotheby's New York, 17th January, 1991, lot 124
Homan Potterton
Adam's Dublin, Sale 7 September 2021, lot 91 
References:
Michael Wynne, 'Thomas Frye (1710-1762)', Burlington Magazine, February 1972, vol.114/No. 827, pp. 79-85
Price:£15,500