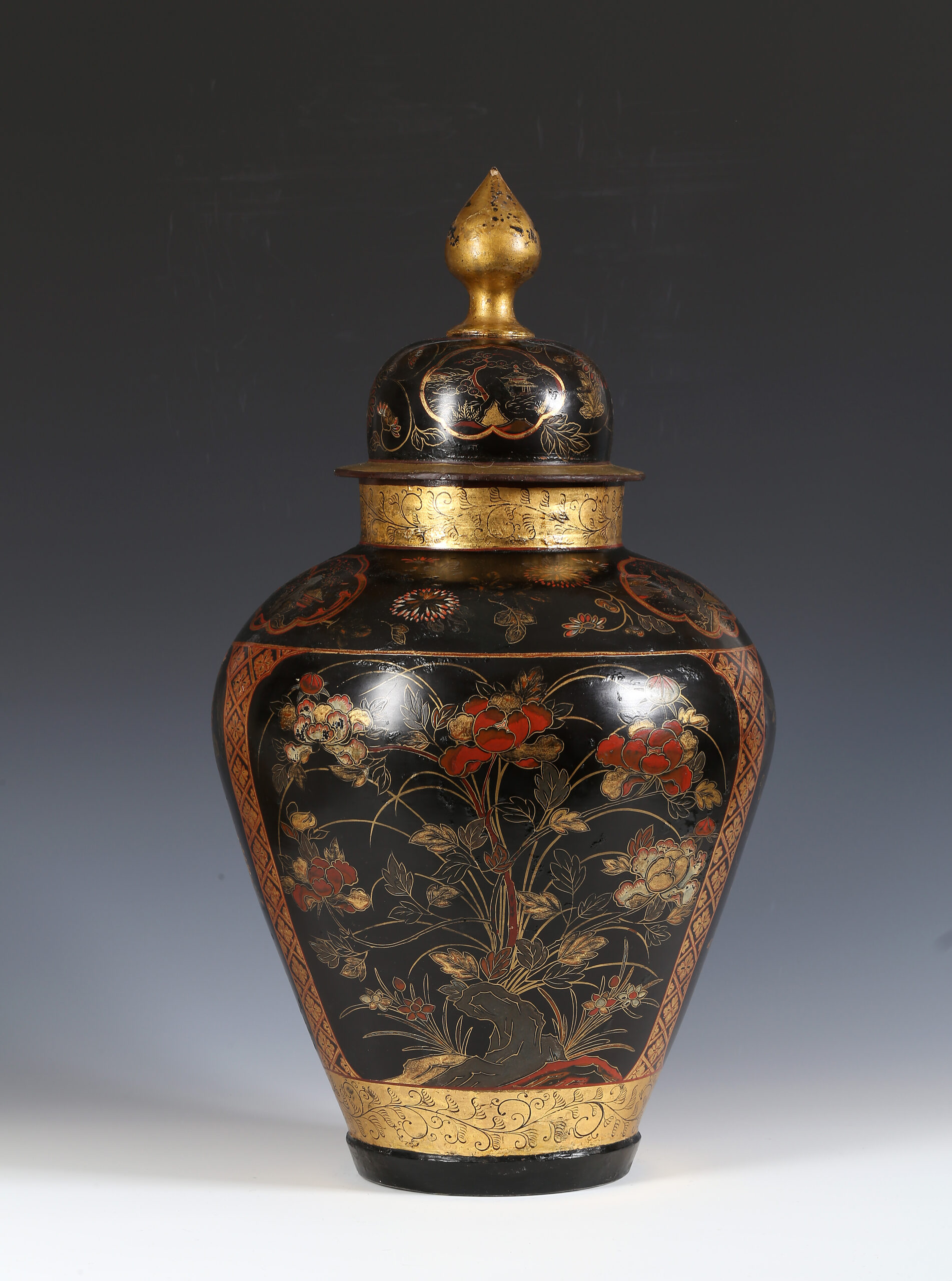 A LACQUERED ARITA JAR AND COVER
Arita, Japan
Porcelain, urushi (lacquer) with polychrome pigments and gold
Circa 1690-1715
61 cm. (24 in.) high
This rare Japanese lacquered and gold-painted porcelain jar is identical in shape and decoration to the largest central vase of a five-piece garniture or 'aufsatz' in the Residenz, in Munich, which includes three jars and two beaker-shaped vessels.[i] The Munich garniture is listed among "Altbestand" (old goods) in historic inventories of the contents of the Residenz, confirming its acquisition by a member of the Wittelsbach family, possibly the Bavarian Elector Max Emanuel (r. 1679–1726) or Karl Albrecht (r. 1726–1745). Today, the Munich set is displayed as a garniture de table in the Antechamber of the Reiche Zimmer (Rich Rooms) in the State Apartments, on a giltwood table designed by François de Cuvilliés (1695–1768) in the 1730s, as a magnificent symbol of global power and wealth.[ii]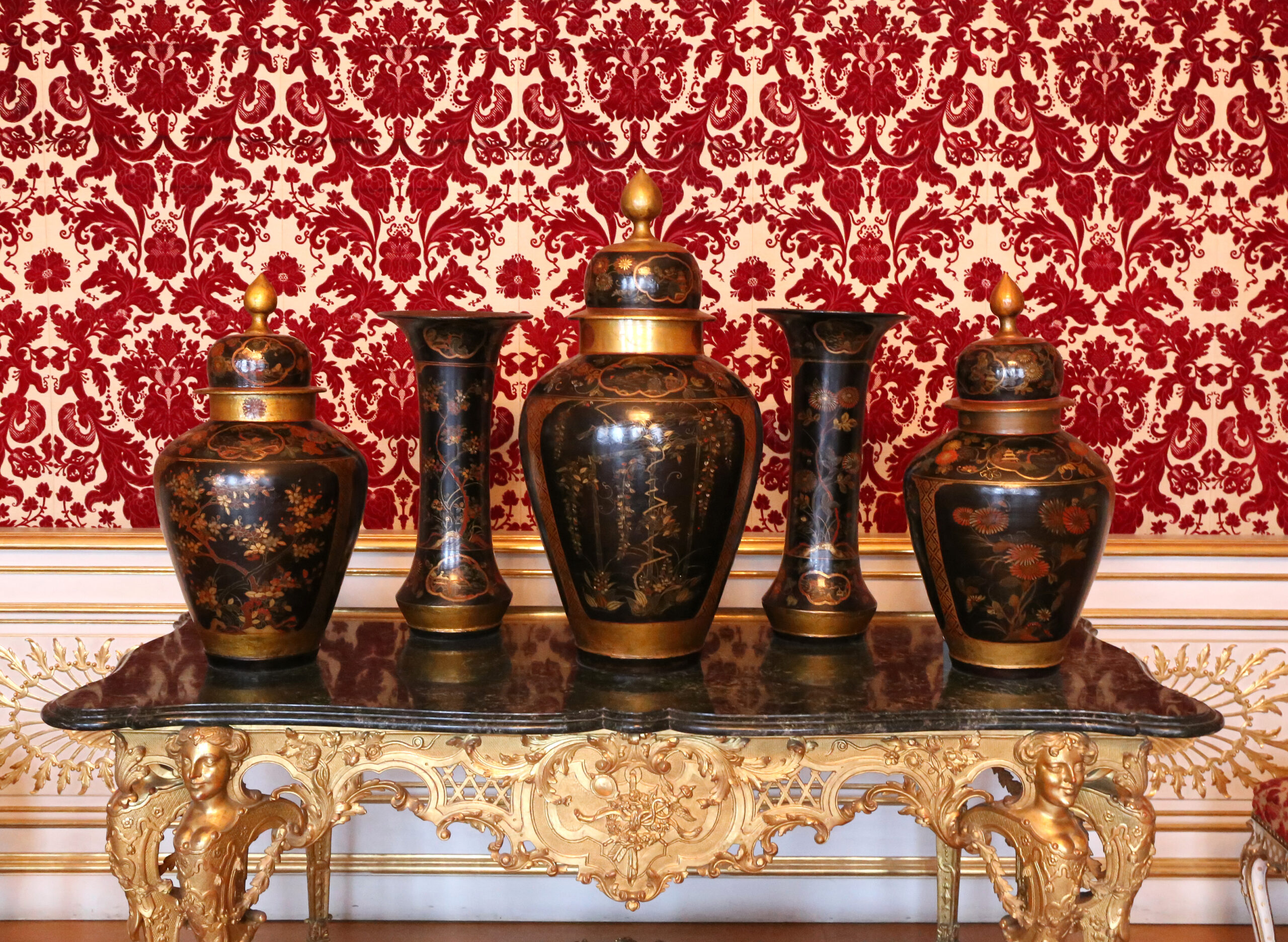 The Residenz, Munich
The jar and cover are porcelain, but only the interiors and underside are glazed, the rough, unglazed exterior was intended to be completed with a smooth lacquer surface that adhered better to a gritty surface. Layers of matte black urushi lacquer and Japan wax were applied to the body, before the flat, gold-painted decoration (hira maki-e) and pigments were executed.[iii] Its decorative scheme imitates polychrome glazed examples of c. 1670–90 with a line around the shoulder dividing the design into upper and lower sections.[iv] The lower section has three large panels depicting wisteria hanging from a bamboo trellis, chrysanthemum with narcissi, and peony trees, grasses and wild chrysanthemum, all issuing from rockwork. These panels are divided by a narrow gold ground of formal lozenges (hanabishi) with diamond florets (karabana, meaning 'Chinese flower'), first outlined in iron-red pigment and finished with black details. The upper section has a continuous design of scrolling chrysanthemum interspersed with three lobed cartouches of landscapes with pine trees and pavilions, repeated on the high domed cover with its elegant onion-shaped finial.
The Japanese technique of combining lacquer and porcelain has been little studied.[v] The most sophisticated group integrate glazed and unglazed surfaces, a complex process that required the transmission of designs from lacquer workshops in Nagasaki, Kyoto or elsewhere, to potters in Arita, and the re-transportation of unfinished, partially glazed vessels back to the lacquer workshops for completion and then on to Deshima for shipment to Europe. Celebrated examples of this technique include the bird-cage vases (rouleaux à cages), c.1700, and tall garnitures, c.1690–1715, which were acquired in the Netherlands for Augustus the Strong between 1716 and 1718 by the Italian nobleman Pietro Roberto Taparelli, Count of Lagnasco (1659–1735), and now in the Porzellansammlung, Staatliche Kunstsammlungen Dresden.[vi] The lacquer work decorating our jar and those in Munich may have been executed at a different Japanese workshop, perhaps one associated with the Indian market for ornamental shields.
The link between these ornamental shields and the lacquer on this jar is in the black-painted band of frond-like leaves and scrollwork, a karakusa-type pattern, which appears on the burnished gold bands on the neck and above the foot, these appear now to be absent on the Munich garniture following restoration. This painted band is atypical of porcelain decoration and instead more frequently found on lacquer ware. For example in gold around the base of a rare pair of black lacquer beakers on wooden frames which formerly ornamented Schloss Pilnitz, near Dresden, as part of the collection of Augustus the Strong: they are described in the 1721-7 inventory as No. 1 a five-piece garniture including 'two-eight-sided beakers with round spreading rims'.[vii] More interestingly, the painted band also appears on the borders of a group of shields made in Bengal and transported to Japan via Batavia (now Jakarta) for lacquering for the Indian market and recorded in the dagregisters (daily registers) of the Dutch East India Company from 1647.[viii] Several of these rare large, round, convex leather shields made for the Indian trade are painted with similar polychrome and gold painted floral designs and date to c. 1680–1720; and a few have European ciphers ordered by members from the Dutch Company or their chief traders, the Opperhoofden, as private trade.[ix] Examples of both are in the following European collections: Libochovice Castle, Czech Republic (from the collection of Jan Josef Herberstein (1854–1944)) and Kynžvart Castle, formerly in the Klemens Wenzel Lothar von Metternich Collection.[x] The floral decoration on one of the shields Libochovice Castle is especially similar to the decoration on our jar.[xi]
The Dutch East India Company officially ceased ordering Japanese lacquer for export to the West in 1693, however, the trade continued as private trade organised by agents independent of the Company. The owners of Japanese lacquer workshops must have felt an immediate loss of trade and were financially forced to seek new markets through a variety of unusual and enticing objects. However, in the case of porcelain garnitures, it was short-lived, evidenced by the paucity of surviving examples dating from the 1690s to the 1720s.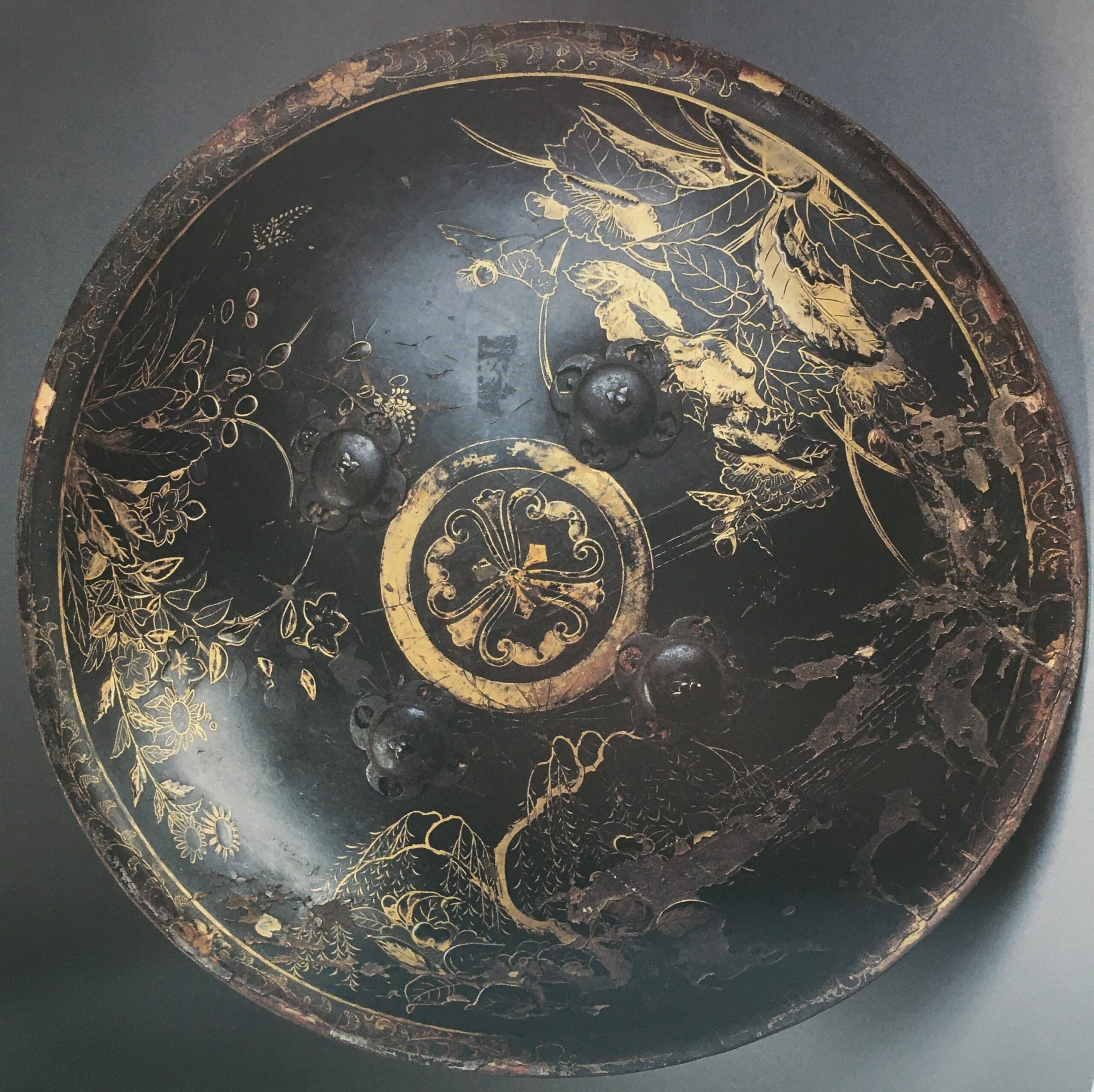 A Bengal shield lacquered in Japan, 1680-1720
(Libochovice Castle, Czech Republic, LB3383)
Footnotes:
[i] The term 'aufsatz' appears in old German inventories to describe sets of jars and beakers.
[ii] There is little evidence that such garnitures were in English collection in the early 18th century: the Stowe Sale Catalogue, 1848, lists as lot 578 'A pair of beakers, of rare old japan lacquer on porcelain mounted in ormolu'. More typical is the following European provenance: a five-piece set mounted in ormolu was sold from the collection of Charles-Alexandre de Lorraine (1712­–1780), Des Effets Précieux de feue son altesse Royale le Duc Charles de Lorraine et de Bar, Brussels, 21 May 1781 (and following days), lot 340 'Cinq vases de vieux laque, richement garnis de bronze, formant une garniture de cheminée', cited in Stephane Castellucio, Collecting Chinese and Japanese Porcelain in Pre-Revolutionary Paris (Los Angeles CA, 2013), 82.
[iii] Maki refers to the sprinkling of metallic powders, maki-e to a picture or design in this technique, and hira maki-e translates as low-relief pictures.
[iv] See for example a jar in the Staatliche Kunstsammlungen Dresden (SKD) reg. no. PO9044.
[v] Anthony du Boulay, 'A Japanese garniture for Nostell Priory', Apollo Magazine, 149:446 (April 1999), 20-23; and Suzanne Lambooy, 'Lacquer on Japanese porcelain: a case study of two Imari vases with urushi lacquer decoration from the collection of the Rijksmuseum Amsterdam', in Janet Bridgland (ed.), Preprints of the 14th Triennial Meeting, The Hague, 12 – 16 September 2005: ICOM Committee for Conservation (London, 2005), Vol. II, 1075–1082.
[vi] Ruth Sonja Simonis and Jan Hüsgen, 'The Amsterdam-Dresden Porcelain Trade: Count Lagnasco's Purchases for Augustus the Strong, 1716-17', Journal of the American Ceramic Circle, vol. XX, 2019, pp. 83-98; for a bird-cage vase see SKD, PO 3801. Other examples of porcelain jars and beakers are at Nostell Priory, West Yorkshire (The National Trust) and elsewhere, including a jar recently sold by us to the Ackland Art Museum, North Carolina, USA https://www.rare-ceramics.com/past-sales/a-large-arita-blue-and-white-lacquered-vase-and-cover/
[vii] SKD, PO 37318 https://skd-online-collection.skd.museum/Details/Index/313150
; and Oliver Impey and Christiaan Jörg, Japanese Export Lacquer 1580-1850 (Amsterdam, 2005) p. 164, fig. 380 and 381.
[viii] As early as 1647, the Dutch East India Company sent shields ('Industanse schilden') from Bengal via Batavia to Japan to be lacquered and returned to India possibly as diplomatic gifts; the trade continued into the 1747, see Impey and Jörg 2005, 252–263; and 192–194.
[ix] A Bengal shield with the cipher 'I V L' has been associated with Johannes van Leenan, a high-ranking official in the Dutch East India Company, is in the Rijksmuseum, Amsterdam, reg. no. NG-NM-541, see https://www.rijksmuseum.nl/nl/collectie/NG-NM-541
[x] Filip Suchomel and Marcela Suchomelová, A Surface Created for Decoration: Japanese Lacquer Art from the 16th to the 19th Centuries, Prague, 2002, cat. nos. 25 and 38.
[xi] Suchomel and Sucholemová 2002, cat. no. 38.
Acknowledgements:
Text and research by Patricia Ferguson
We are grateful to Dr. Friederike Ulrichs, Referentin für Schloss Höchstädt / Burg Prunn / Marstallmuseum, Fachbereich Keramik, for her assistance with the provenance of the Residenz garniture and Dr. Katharina Hantschmann.
Condition:
Detailed conservation report available
SOLD
Acquired by the Asian Civilisation Museum, Singapore